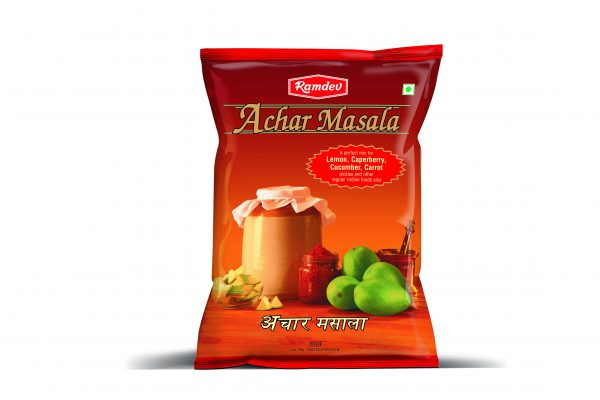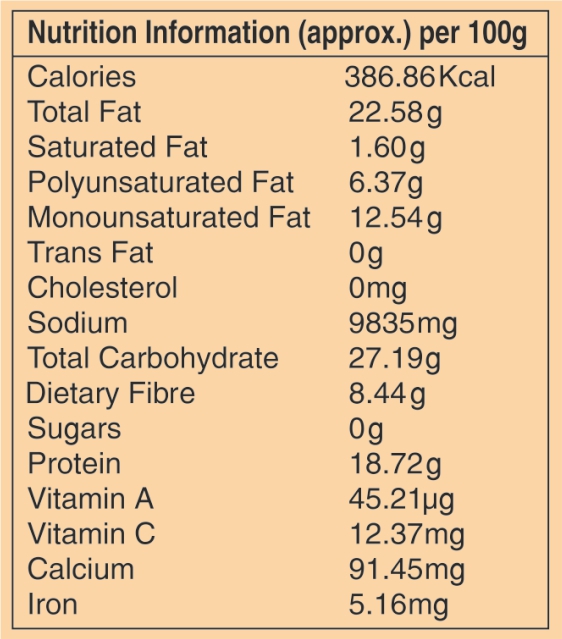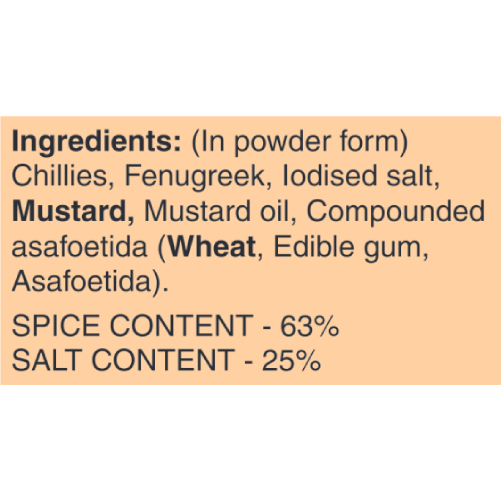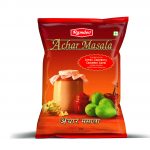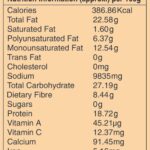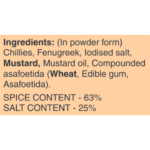 Achar Masala
MRP: ₹ 105.00 - ₹ 255.00 (Inclusive of All Taxes)
Description
Ingredients
Nutritional Information
fssai
Description
Product info
Add an achari twist to boring food and buy Ramdev Achar Masala online. Bring home the blend of aromatic spices and add them to not just achars but to salads, paranthas, or use it as a side condiment with khichdi and dal-rice. It is referred to as Methia or Sambharo in Gujarat and is sprinkled over dhokla and other delicacies.
Ramdev Achar Masala is the perfect blend of highest quality ingredients like mustard, fenugreek, mustard oil, the signature Ramdev Chilli and iodised salt. With these ingredients mixed in the right proportion, you do not need to add any additional spice or salt to your achars and other delicacies. This is also one of the reasons why people shop Ramdev Achar Masala online most frequently.
Uses
Ramdev Achar Masala is the perfect recipe for homemade achars or pickles. We have ensured to bring in the same taste that reminds you of 'Maa ke haath' ka achar. You can use it to spice up various sabjis and salads too.
How to make Achar using Ramdev Achar Masala?
Making pickles from India's favourite and best Ramdev Achar Masala is child's play. It's quick, easy, convenient and offers the taste just like traditional achar.
Here's how you can make mango or lime pickle using Ramdev Pickle Masala:
Wash raw mango or lime and cut them into medium size pieces.

Ensure that the mango and lime are dry.

In a pan, heat oil. Allow it to cool.

In the warm oil, add Ramdev Achari Masala.

Add this oil and masala mix to the mango or lime pieces and mix gently till all the pieces are coated with the masala.

Take an airtight and dry glass jar. Add the pickle to it and store.

Your pickle is ready to eat, instantly.

Keep the bottle in a cool place, away from humidity.

You can also use green chillies, carrots or other vegetables to make pickle if you

buy Ramdev Achar Masala online

.
Ramdev Masala Recipes
Use Ramdev Achar Masala to make achars and quick salads. The same masala can be used for preparing raw mango, lime, green chilli or mixed veg pickles.
Cabbage salad
Take 1 bowl of finely chopped cabbage.

Add 1 tablespoon Ramdev Achar Masala, a pinch of Red Chilli Powder and squeeze some lime juice.

Mix and serve with regular Indian meals.

You can use grated carrots, or Coccinia (tindora, tendli) to prepare salad.
Achari aloo parantha
Boil potatoes. Add 2 tbsp. Ramdev Pickle Masala, salt to taste, chopped green chilies, chopped coriander, 1 tsp garam masala and amchur powder. Mix well.

Stuff the mixture in dough and roll parathas. Enjoy with curd or chutney.
Other Ramdev Achari Masala recipes:
Achari paneer tikka

Achari Gobhi

 Achari Bhindi

Achari Aloo

Achari channe
(In powder form) - Chillies, Fenugreek, Iodised Salt, Mustard, Mustard Oil, Compounded Asafoetida
Nutritional Information (Approx.) Per 100g
Calories
386.86
Kcal
Total Fat
22.58
g
Saturated Fat
1.60
g
Polyunsaturated Fat
6.37
g
Monounsaturated Fat
12.54
g
Trans Fat
0
g
Cholesterol
0
mg
Sodium
9235
mg
Total Carbohydrate
27.19
g
Dietary Fibre
8.44
g
Sugars
0
g
Protein
18.72
g
Vitamin A
45.21
µg
Vitamin C
12.37
mg
Calcium
91.45
mg
Iron
5.16
mg