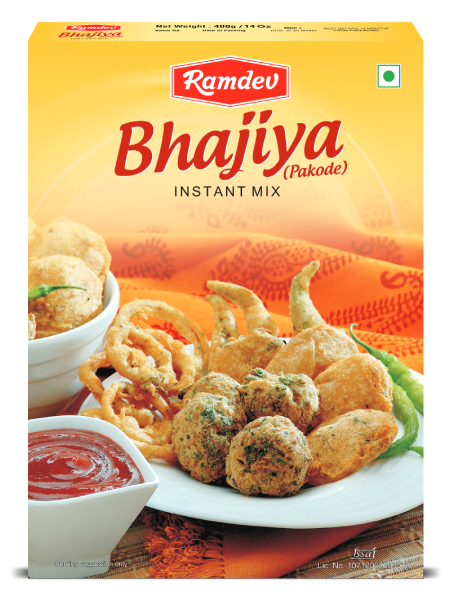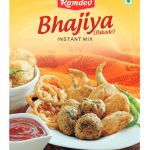 Ingredients
Recipe
Nutritional Information
Ingredients: (In powder form) - Bengal Gram Flower, Semolina, Sugar, Iodised Salt, Coriander, Black Pepper, Dry Fenugreek Leaves, Raising Agent (INS 500(ii)).
Add 300ml. water into the mix and make batter. Cut potato, onion and green chilli into slices or rings as required. Dip them into the batter and fry in hot oil on medium flame. Hot Bhajiyas are served with tomato ketchup/sweet chutney/green chutney.
Note: To make Methi Gota from this mix, add 140g crushed green chilli, 80g fresh fenugreek leaves, and 200ml water into this mix and deep fry in hot oil on medium flame.
Makes 70 Bhajiyas (approx. 10g each)
Nutritional Information (Approx.) Per 100g
Calories
371.75
Kcal
Total Fat
4.23
g
Saturated Fat
0.52
g
Trans Fat
0
g
Cholesterol
0
mg
Sodium
2064
mg
Total Carbohydrate
67
g
Dietary Fibre
9.84
g
Sugars
10.36
g
Protein
16.42
g
Vitamin A
12.14
µg
Vitamin C
0
mg
Calcium
136
mg
Iron
4.17
mg