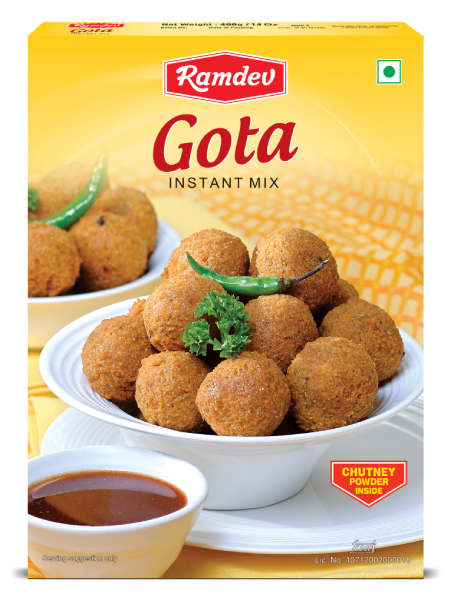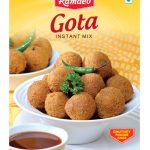 Ingredients
Recipe
Nutritional Information
Ingredients: Bengal Gram powder, Sugar, Iodised Salt, Chilli Powder, Garam Masala Powder, Black Pepper, Coriander, Ajowan, Fennel, Raising Agent (INS 500(ii)), Acidity Regulator (INS 330).
Add 200ml. water or milk into this mix. Keep it aside for 15 minutes. Whip the batter before frying. Fry Gota in hot oil at a consistent degree of temperature.
Note: Fulwadi and Bananawada can also be made with this mix.
Chutney Recipe: Add 80g jaggery into 100ml. water and heat it till the jaggery gets dissolved. Add given chutney pack and boil it for 3 to 5 minutes. Serve hot Gota with Chutney.
Makes 25 Gota (approx. 20g each)
Nutritional Information (Approx.) Per 100g
Calories
355.77
Kcal
Total Fat
3.89
g
Saturated Fat
0.68
g
Polyunsaturated Fat
0.57
g
Monounsaturated Fat
1.74
g
Trans Fat
0
g
Cholesterol
0
mg
Sodium
1760
mg
Total Carbohydrate
64.26
g
Dietary Fibre
6.44
g
Sugars
12.80
g
Protein
15.93
g
Vitamin A
0
µg
Vitamin C
0
mg
Calcium
92.66
mg
Iron
5.41
mg