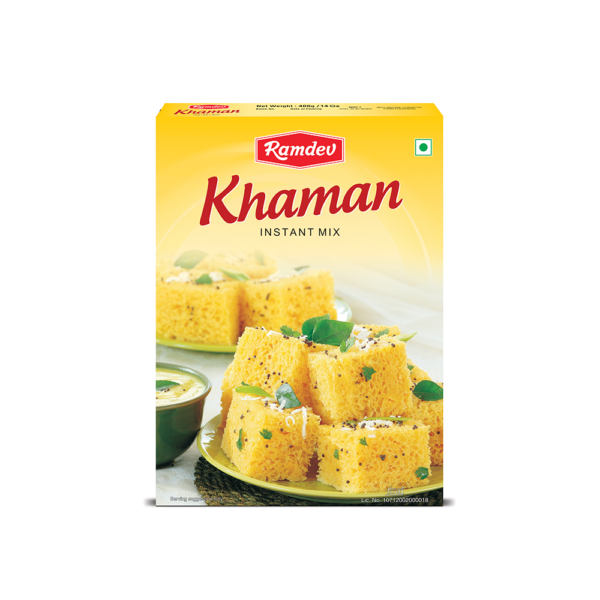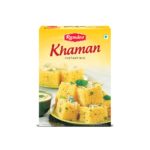 Ingredients
Recipe
Nutritional Information
Ingredients: (In powder form) Rice, Red Gram Dal, Bengal Gram Dal , Black Gram Dal, Sugar, Wheat, Iodised Salt, Chillies, Turmeric, Raising Agent (INS 500(ii)), Acidity Regulator (INS 330).
Add 500ml. water to the mix (not the masala pack), mix thoroughly and keep it aside for 15 minutes. Take a large vessel, out a round stand inside and boil the water. Apply oil on the inner surface of a deep, round plate (Thali) of about 1 ft. diameter and place it into the vessel. Now add masala pack content into the batter, whip it and spread onto the plate. Put the cloth-tied lid tightly over the vessel and let the batter steam for 15 minutes. Take the vessel off the burner and allow it to cool for 10 minutes. Now cut Khaman into square pieces and put them in other bowl for sizzling.
Nutritional Information (Approx.) Per 100g
Calories
341.81
Kcal
Total Fat
1.49
g
Saturated Fat
0.12
g
Polyunsaturated Fat
0.45
g
Monounsaturated Fat
0.73
g
Trans Fat
0
g
Cholesterol
0
mg
Sodium
2140
mg
Total Carbohydrate
70.18
g
Dietary Fibre
7.05
g
Sugars
9.23
g
Protein
11.92
g
Vitamin A
4.90
µg
Vitamin C
0
mg
Calcium
145
mg
Iron
3.86
mg