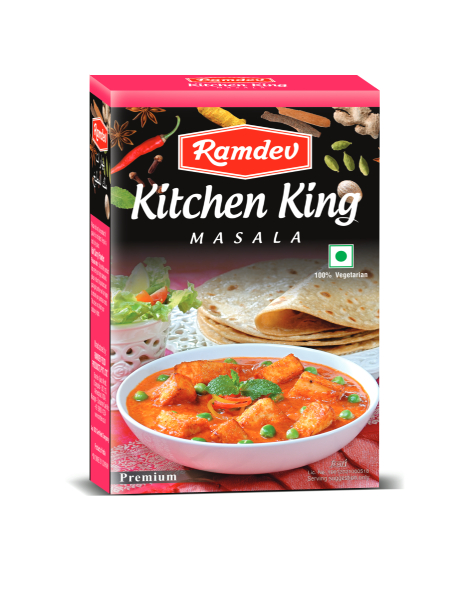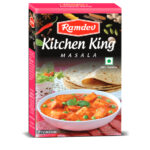 Kitchen King Masala
₹ 28.00 – ₹ 52.00
Ingredients
Recipe
Nutritional Information
Ingredients: (In powder form) - Coriander, Chillies, Cumin, Turmeric, Fenugreek, Curry Leaves, Dry ginger, Iodised Salt, Black Pepper, Curry Leaves, Garlic, Onion, Cloves, Cassia, Anistar, Nutmeg, Cardamom, Compounded Asafoetida, Dry Fenugreek Leaves, Mace.
Allergen: The product made in a facility that processes Peanuts, Tree nuts, Soya, Milk, Mustard, Sesame, Celery and Cereals.
Mutter Paneer - To 1 tablespoon oil add 1 chopped onion, 2 green chillies, 4 garlic buds, 5 cashews, 1 tablespoon poppy seeds, 1 teaspoon Cumin, 1 teaspoon dry fenugreek leaves, a piece of ginger and mildly sauté. Add ½ cup water and leave it for 30 minutes and make a fine paste. Sauté this paste in 3 tablespoon ghee for 3 minutes. Add puree of 2 tomatoes, 1 teaspoon Ramdev Chilli Powder, ½ teaspoon Ramdev Turmeric powder, 2 teaspoon (7g) Ramdev Kitchen King Masala, salt to taste, 1 cup boiled peas and cook till ghee separates. Add 1 cup water and 200g fried paneer and cook for 5 minutes. Garnish with onion and capsicum rings, cashew and cream and serve hot. Ramdev Kitchen King Masala makes all vegetables, dals and other delicacies tastier.
Nutritional Information (Approx.) Per 100g
Calories
374.87
Kcal
Total Fat
10.95
g
Saturated Fat
1.04
g
Polyunsaturated Fat
1.37
g
Monounsaturated Fat
4.92
g
Trans Fat
0
g
Cholesterol
0
mg
Sodium
2600
mg
Total Carbohydrate
56.87
g
Dietary Fibre
13.84
g
Sugars
0
g
Protein
12.21
g
Vitamin A
9.21
µg
Vitamin C
2.43
mg
Calcium
87.20
mg
Iron
8.56
mg