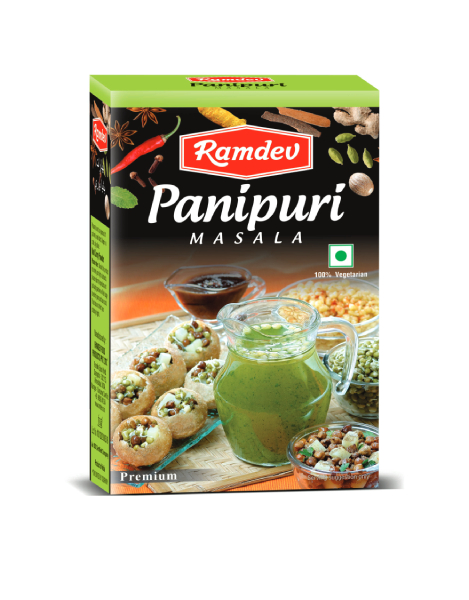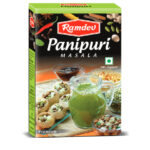 Ingredients
Recipe
Nutritional Information
Ingredients: (In powder form) - Coriander, Chillies, Cumin, Dry Mango, Iodised Salt, Black Pepper, Black Salt, Acidity Regulator (INS 330). Allergen: The product made in a facility that processes Peanuts, Tree nuts, Soya, Milk, Mustard, Sesame, Celery and Cereals.
(To serve 75 Panipuris) - Take 8-9g fresh mint leaves, 8g green Coriander leaves and 2-3 green Chillies. Add little water and crush it into a paste. Now add 1 litre chilled water, 2 tablespoon of Ramdev Panipuri Masala, lemon juice and salt to taste. Addition of the Date-tamarind sweet chutney makes the Panipuri tastier and mouth watering.
Nutritional Information (Approx.) Per 100g
Calories
224.60
Kcal
Total Fat
4.84
g
Saturated Fat
0.72
g
Polyunsaturated Fat
1.21
g
Monounsaturated Fat
2.14
g
Trans Fat
0
g
Cholesterol
0
mg
Sodium
14920
mg
Total Carbohydrate
36.78
g
Dietary Fibre
3.60
g
Sugars
0
g
Protein
8.48
g
Vitamin A
18.90
µg
Vitamin C
2.91
mg
Calcium
62.94
mg
Iron
11.38
mg