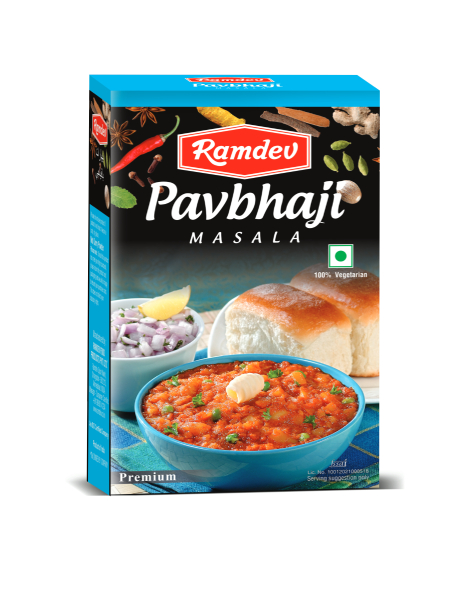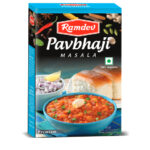 Pavbhaji Masala
₹ 28.00 – ₹ 52.00
Ingredients
Recipe
Nutritional Information
Ingredients: (In powder form) - Coriander, Chillies, Cumin, Dry Mango, Curry Leaves, Cassia, Cloves, Iodised Salt, Anistar, Fennel, Black Pepper, Mace, Dry Ginger, Stone Flower, Nutmeg and Cardamom.
Allergen: The product made in a facility that processes Peanuts, Tree nuts, Soya, Milk, Mustard, Sesame, Celery and Cereals.
Boil and mash 450g mixed vegetables (potato, cabbage, cauliflower and brinjal). Boil 50g peas separately. In 4 tablespoon of oil, add 1 tablespoon garlic paste, finely chopped 1 onion and 2 tomatoes, 1 1/2 tablespoon of Ramdev Premium Pavbhaji Masala, 1 tablespoon Ramdev Chilli Powder and sauté till the oil separates. Add boiled mashed vegetables, salt to taste, 1 finely cut small capsicum and boiled peas. Once oil separates, garnish hot bhaji with coriander leaves and butter. Serve with chopped onions and pav.
Nutritional Information (Approx.) Per 100g
Calories
388.04
Kcal
Total Fat
12.92
g
Saturated Fat
1.94
g
Polyunsaturated Fat
5.16
g
Monounsaturated Fat
3.48
g
Trans Fat
0
g
Cholesterol
0
mg
Sodium
2722
mg
Total Carbohydrate
54.85
g
Dietary Fibre
6.39
g
Sugars
0
g
Protein
13.09
g
Vitamin A
45
µg
Vitamin C
5.50
mg
Calcium
112.64
mg
Iron
15.57
mg