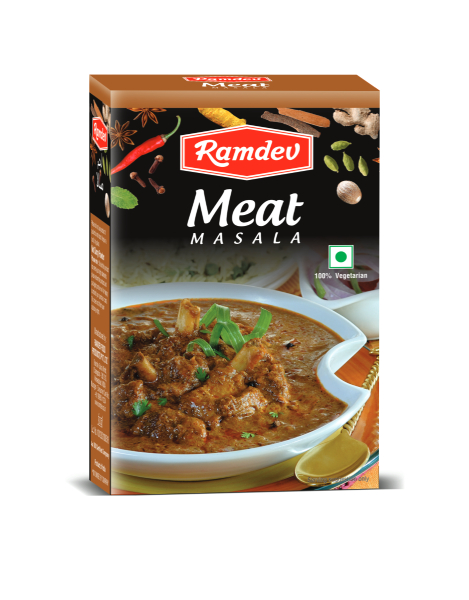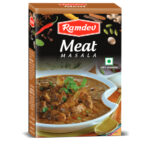 Ingredients
Recipe
Nutritional Information
Ingredients: (In powder form) - Chillies, Cumin, Coriander, Turmeric, Black Cardamom, Iodised Salt, Black Pepper, Cassia, Cloves, Dry Ginger, Dry Mango, Curry Leaves, Bay Leaves, Dry Fenugreek Leaves, Fennel. Allergen: The product made in a facility that processes Peanuts, Tree nuts, Soya, Milk, Mustard, Sesame, Celery and Cereals.
Nawabi Meat Curry: Take 1 kg meat pieces, add 3 tablespoon Ramdev Meat Masala, 3 tablespoon Ramdev Chilli powder, ½ teaspoon Ramdev Turmeric powder, 2 tablespoon Ramdev Coriander powder, 4 tablespoon shredded coconut, 1 cup curd and salt to taste. Mix all these ingredients and marinate for 1 hour. Heat ½ cup oil in a frying pan and sizzle it with 1 tablespoon cumin seeds. Add gravy of 4 onions and 3 tablespoon ginger-green chilli-garlic paste and sauté for 2 minutes. Add gravy of 4 tomatoes and cook it till oil separates. Add marinated pieces of meat, water as required and allow it to cook. If you wish to cook it in pressure cooker, cook it till 5-6 whistles. Now garnish Hot Nawabi Meat Curry with lemon slices, coriander leaves, cream and serve it with Roti, Nan or Rice.
Nutritional Information (Approx.) Per 100g
Calories
396.68
Kcal
Total Fat
14.32
G
Saturated Fat
1.86
G
Trans Fat
0
G
Cholesterol
0
Mg
Sodium
2358
Mg
Total Carbohydrate
54.47
G
Dietary Fibre
9.12
G
Sugars
1.15
G
Protein
12.48
G
Vitamin A
52.94
µg
Vitamin C
8.36
Mg
Calcium
193
Mg
Iron
11.70
Mg