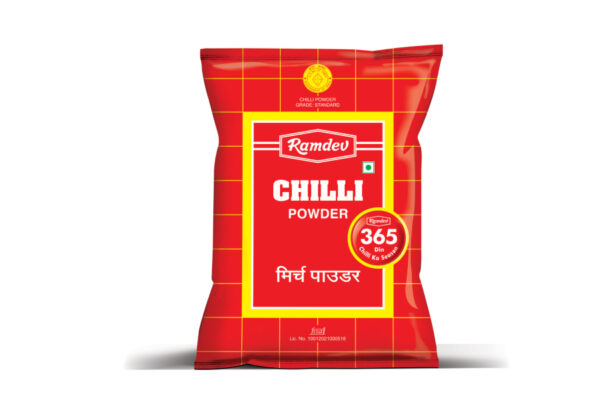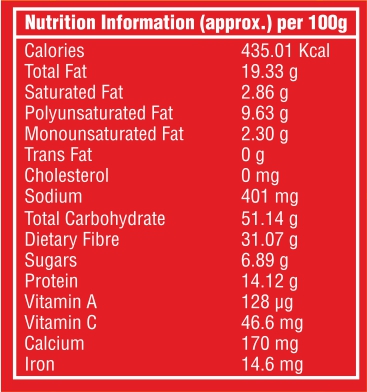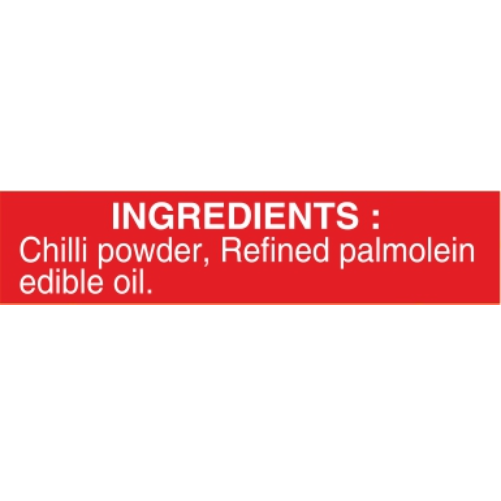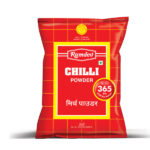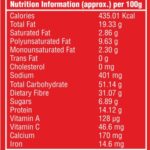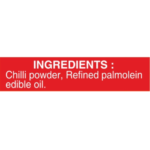 Chilli Powder
MRP: ₹ 70.00 - ₹ 660.00 (Inclusive of All Taxes)
Chilli Powder is the essential ingredient in every food, and it is the need of every kitchen for spices lover. Buy Best Chilli powder online at RamdevStore.
Description
Ingredients
Nutritional Information
Fssai
Description
Of the many flavours associated with Indian cuisine, Chilli is the most emphatic. Not surprisingly, its scorching aroma has an unforgettable effect. Ramdev Chilli Powder is produced from the best quality Chillies from select Indian farms – handpicked, sifted and fully de-stalked.
Red chilli powder has numerous health benefits too apart from adding colour to your food. There is a variety of red chilli powder that is available in India. Mirch powder is made from dry red chillies that are available in various parts of India. These dry red chillies are ground into a coarse powder that adds a lot of flavour to the Indian cooking and is an essential part of Indian food. You can buy red chilli powder online. The red chilli powder is hygienically packed and remains fresh. You can store the Mirchi powder in an airtight box to keep it fresh always.
As a seasoning to all your dishes or in little spicy touches from time to time,  Ramdev Chilli Powder reigns the kitchens in India as an essential spice. 
Known for thousands of years, chilli was first cooked by the Aztecs. They turned the peppers into a drink mixed with cocoa. The spice was however discovered in Mexico in 3500 BC. 
When Christopher Columbus set foot on the American continent, he thought he found a new route to India. He noticed that the Aboriginals did not eat anything without adding chilli. It was, therefore, Christopher Columbus who brought back the famous pepper at the end of the 15th century and introduced it to the other parts of the world.
Chilli powder was subsequently introduced throughout South America both as a medicine, as a condiment, but also as a vegetable in its fresh and raw form. Today, it is a condiment cultivated on all continents of the world. People can buy Ramdev Chilli Powder online from all parts of India. 
We take pride in our method of selecting the right chillies which are processed hygienically. At each step of the process, Ramdev ensures that when you shop Ramdev Chilli powder online, its free from impurity and available in the best packaging to retain its freshness. 
Chilli Powder Uses
Ramdev Chilli Powder is known for its vibrant natural colour which comes from the choicest of chillies and perfect pungency that is due to the unmatched quality of dried chillies used. Shop Ramdev Chilli Powder and use it in any dishes across any cuisine worldwide. 
Health benefits
Ramdev Chilli Powder also helps you fill up with vitamins and antioxidants. Hence, it is known to have several health benefits. The hot pepper can prove to be an ally slimming because its capacity in Capsaicin helps burn more calories in our body.
Nutrients in Ramdev Mirch Powder:
Vitamin C: antioxidant properties, supports the immune system, promotes iron absorption and helps in healing.
Vitamin E: stops the phenomena of oxidation in our body.
Vitamin A: in the form of β-carotene, which facilitates metabolism.
Vitamin K: helps fight haemorrhages and various liver disorders.
Vitamin PP: remains unaltered in dried chilli.
Minerals: Red Mirchi powder also contains iron, copper, manganese, magnesium and potassium.
Buy Ramdev Chilli Powder online for the following health benefits:
Stimulates Metabolism: Capsaicin, present in chilli, contains metabolism-boosting properties. This helps to increase the amount of heat produced by your body, which allows you to burn more calories per day. 
May Help Reduce Hunger: Interestingly, consuming Ramdev chilli powder can reduce your hunger, help you eat less, and feel full for longer. Capsaicin helps reduce the production of ghrelin (the hunger hormone). Thus, adding chilli to your food can create a feeling of satiety. 
Helps Digestion: Food spices and their active components can provide your stomach with many benefits, for example, Ramdev Mirchi Powder can help strengthen the stomach's defence against infection, increase the production of digestive fluid, and help transmit enzymes to the stomach. This promotes better digestion. 
Why Choose Ramdev Products?
At Ramdev, delivering quality is the priority.
The manufacturing plant sets the standards in the best manufacturing processes, practices and capacity to match the expectations globally. Every process from procurement to packing takes place under stringent quality standards by the quality control experts, using the best of technology accepted worldwide. 
This has won the organization the ISO 22000 certification – for best food safety standards.
Through its products, Ramdev believes in 'reaching a customer's heart through quality'. This is why Ramdev Chilli Powder is one of the best products globally.
Ramdev Chilli Powder Recipes
While consuming Ramdev Chilli powder, add it to your foods based on your preference for spice. We have tried to create the perfect balance of spice and colour in our product. However, the taste can be subjective and hence we recommend user discretion. 
Ramdev Mirchi Powder will allow you to bring an exotic flavour to your culinary dishes. 
Here are a few ideas for Ramdev Chilli Powder recipes:
Sprinkle it on your dahi wadas

Sambhar

Paneer Makhanwala

Veg Kolhapuri

Pav Bhaji

Misal Pav

Biryani

Garlic Chutney

Laal maans
Ratings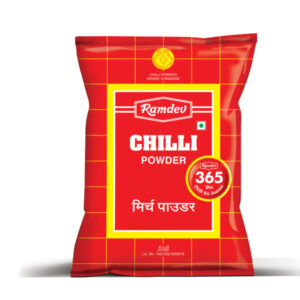 Chilli Powder, Ref. Rapeseed Edible Oil
Nutritional Information (Approx.) Per 100g
Calories
435.01
Kcal
Total Fat
19.33
g
Saturated Fat
2.86
g
Polyunsaturated Fat
9.63
g
Monounsaturated Fat
2.30
g
Trans Fat
0
g
Cholesterol
0
mg
Sodium
401
mg
Total Carbohydrate
51.14
g
Dietary Fibre
31.07
g
Sugars
6.89
g
Protein
14.12
g
Vitamin A
128
µg
Vitamin C
46.6
mg
Calcium
170
mg
Iron
14.6
mg