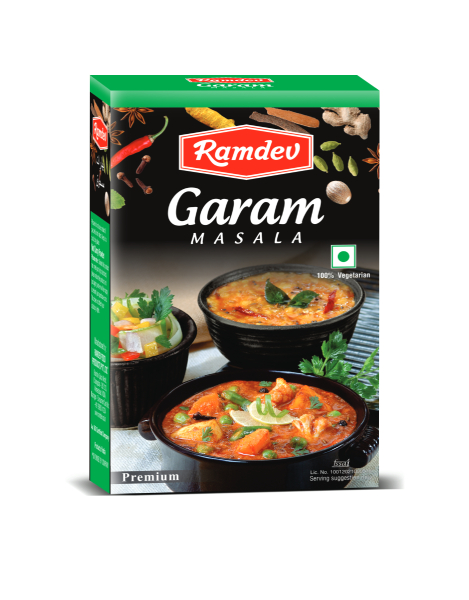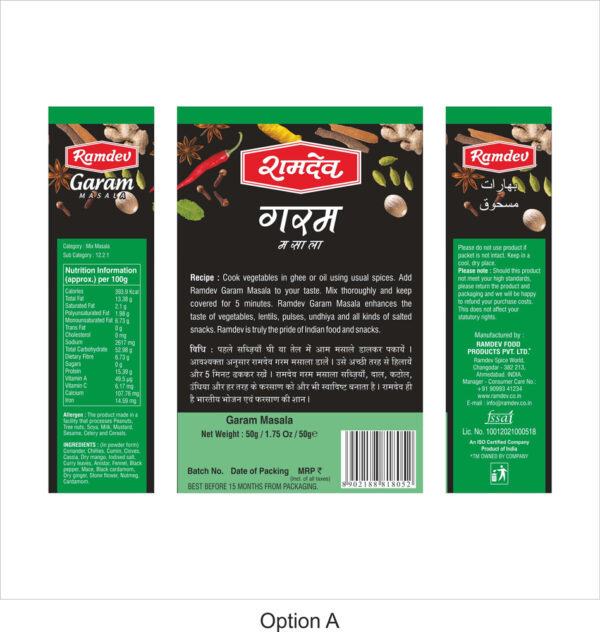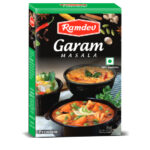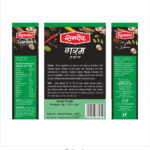 Garam Masala
MRP: ₹ 46.00 - ₹ 415.00 (Inclusive of All Taxes)
Description
Ingredients
Recipe
Nutritional Information
fssai
Description
Indian cuisine incorporates a variety of spices. The ingredients may be the same but it is the proportion of each ingredient that makes every masala taste different. Buy Ramdev Garam Masala online to experience the traditional taste of the quintessential ingredients in most Indian delicacies.
Toasted to perfection, each ingredient of Ramdev Garam Masala, is sourced from the best places. These are then blend to a mix that is a balance of taste and texture. The slightly coarse consistency adds more flavour to your daily cuisines as each of the spices release their oils.
This masala is known to originate from the Northern region where it was used extensively in Mughal cuisine. Due to the cold climate, this masala made it to most dishes due to the warmth that the spices offered. It was then spread across the country, even to certain parts of Iran. Our customers can now shop Ramdev Garam Masala across the globe.
Uses
Ramdev's Premium Masala is a balanced mix of spices that enhances the taste of recipes from all parts of India. With its rustic warmth, slightly sweet notes of cinnamon, fragrance and the touch of heat, this is one product that must be a part of your pantry.
While most people who shop Ramdev Original Garam Masala online prefer adding it to the dishes during the cooking process, we recommend you to add it towards the end. Adding just a teaspoon of Ramdev Garam Masala to your sabjis, daal or other delicacies once it is cooked will help bring better aroma and stronger taste. It is also best not to mix too many other spices as our masala incorporates all the basic and few more ingredients.
Health Benefits
According to Ayurveda, these spices used in Ramdev Garam Masala help in improving metabolism due to their warm tendency.

Due to the warmth of spices, it increases appetite and improves digestive health.

Cloves and cumin used in Ramdev Masala also help deal with acidity, flatulence and bloating problems after a heavy meal.

This spice blend is also used in regulating cholesterol, blood pressure and inflammation in the body.

Use of cinnamon and cloves in Ramdev Garam Masala helps lower blood sugar levels naturally.

Black peppers present in the spice mix improve the absorption of nutrients and thus satisfy the body's nutritional demand.

The natural antioxidants present in the ingredients of Ramdev Garam Masala keeps the mind alert and nervous system healthy.
Ramdev Garam Masala Recipes
You can Buy Ramdev Garam Masala Online and use it in vegetarian as well non-vegetarian cuisines. From legumes to daals, and even many rice preparations, It adds the oomph and aroma to every dish.
You can use it in:
Kadhai Veg/Paneer

Veg Bhuna

Dal Makhani

Aloo Gobhi

Veg Kolhapuri

Biryani
Ingredients: (In powder form) - Coriander, Chillies, Cumin, Cloves, Cassia, Dry Mango, Iodised Salt, Curry Leaves, Anistar, Fennel, Black Pepper, Mace, Black Cardamom, Dry Ginger, Stone Flower, Nutmeg and Cardamom. Allergen: The product made in a facility that processes Peanuts, Tree nuts, Soya, Milk, Mustard, Sesame, Celery and Cereals.
Cook vegetables in ghee or oil using usual spices. Add Ramdev Premium Garam Masala to your taste. Mix thoroughly and keep covered for about 5 minutes. Ramdev Premium Garam Masala enhances the taste of vegetables, lentils, pulses, undhiya and all kinds of salted snacks. Our Garam Masala is truly the pride of Indian food and snacks.
Nutritional Information (Approx.) Per 100g
Calories
393.90
Kcal
Total Fat
13.38
g
Saturated Fat
2.10
g
Polyunsaturated Fat
1.98
g
Monounsaturated Fat
6.73
g
Trans Fat
0
g
Cholesterol
0
mg
Sodium
2617
mg
Total Carbohydrate
52.98
g
Dietary Fibre
6.73
g
Sugars
0
g
Protein
15.39
g
Vitamin A
49.50
µg
Vitamin C
6.17
mg
Calcium
107.76
mg
Iron
14.59
mg