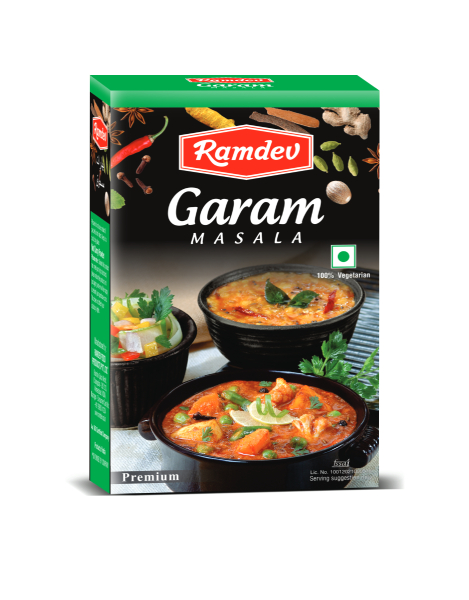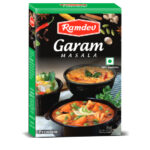 Garam Masala
₹ 32.00 – ₹ 57.60
Ingredients
Recipe
Nutritional Information
Ingredients: (In powder form) - Coriander, Chillies, Cumin, Cloves, Cassia, Dry Mango, Iodised Salt, Curry Leaves, Anistar, Fennel, Black Pepper, Mace, Black Cardamom, Dry Ginger, Stone Flower, Nutmeg and Cardamom.
Allergen: The product made in a facility that processes Peanuts, Tree nuts, Soya, Milk, Mustard, Sesame, Celery and Cereals.
Cook vegetables in ghee or oil using usual spices. Add Ramdev Premium Garam Masala to your taste. Mix thoroughly and keep covered for about 5 minutes.
Ramdev Premium Garam Masala enhances the taste of vegetables, lentils, pulses, undhiya and all kinds of salted snacks. Our Garam Masala is truly the pride of Indian food and snacks.
Nutritional Information (Approx.) Per 100g
Calories
393.90
Kcal
Total Fat
13.38
g
Saturated Fat
2.10
g
Polyunsaturated Fat
1.98
g
Monounsaturated Fat
6.73
g
Trans Fat
0
g
Cholesterol
0
mg
Sodium
2617
mg
Total Carbohydrate
52.98
g
Dietary Fibre
6.73
g
Sugars
0
g
Protein
15.39
g
Vitamin A
49.50
µg
Vitamin C
6.17
mg
Calcium
107.76
mg
Iron
14.59
mg