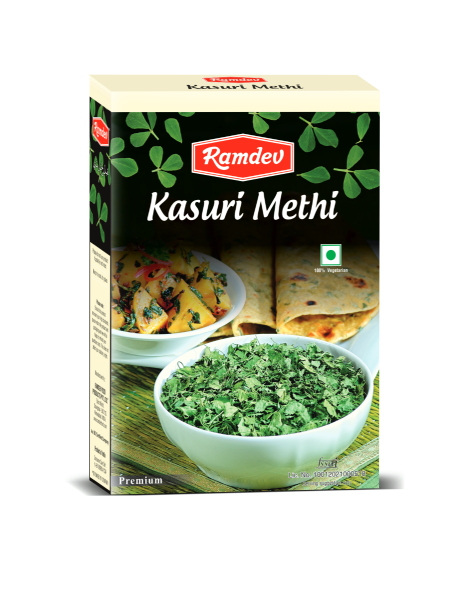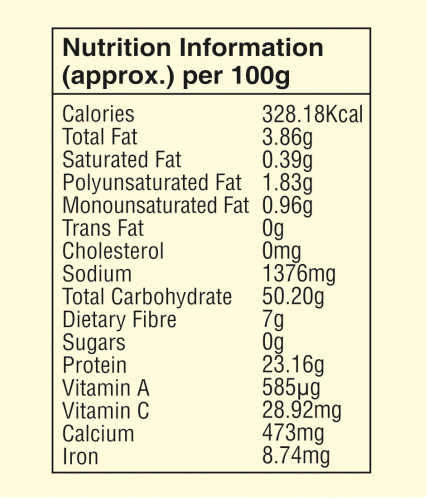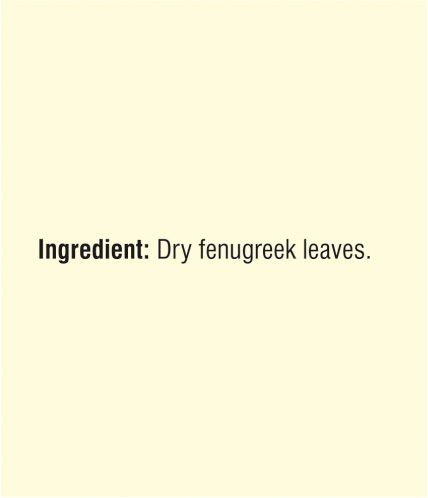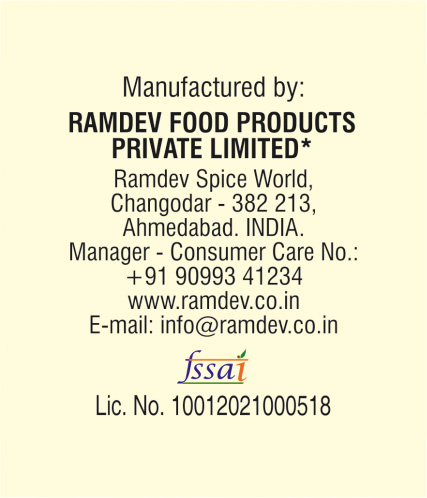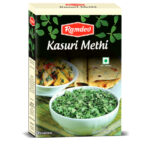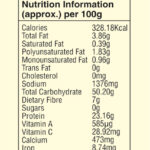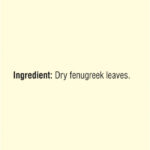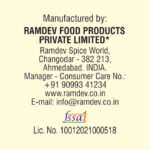 Kasuri Methi
MRP: ₹ 50.00 - ₹ 95.00 (Inclusive of All Taxes)
Description
Recipes
Uses
fssai
Description
A spice found in many cuisines around the world, including Indian and Arabic Cuisine, Methi or Fenugreek is native to North Africa, the Middle East and India. It is a widely used spice in India, and is a part of several spice blends including Colombo and Caraway. You can Buy Ramdev Kasuri Methi Online or from your nearest stores.
Fenugreek leaves is a very rich spice with a large amount of protein (30%), but also in antioxidants, vitamins and easily bio assimilable materials. Fenugreek also contains a good amount of Phosphorous, Iron. Sulphur, Magnesium, Calcium and Vitamins A, B1, C, Flavonoids, Lipids (20%), Carbohydrates (10%) and Lecithin.
Ramdev Kasuri methi is a robust blend of handpicked Fenugreek leaves, sundried in hygienic conditions and packed in state-of-the-art facilities. The Fenugreek leaves are sterilized and are less bitter than loosely brought leaves. Each packet of Ramdev Kasuri Methi contains the right amount of hydration in the leaves and a balance of twigs and leaves to offer the earthy taste of the herb. Shop for Ramdev Kasuri Methi online and experience the freshness.
Why Choose Ramdev Kasuri Methi?
At Ramdev, delivering quality is the priority.
The Manufacturing Plant sets the standards in the best manufacturing processes, practices and capacity to match the expectations globally. Every process from procurement to packing takes place under stringent quality standards by the quality control experts, using the best of technology accepted worldwide.
This has won the organization the ISO 22000 certification – for best food safety standards.
Through their products, Ramdev believes in 'reaching a customer's heart through quality'. This is why Ramdev Kasuri Methi is one of the best products globally.
Kasuri Methi (Fenugreek Leaves) Health benefits:
As a medicinal plant, Kasuri methi has accompanied certain civilizations for thousands of years. It helps treat certain ailments, prevent diseases and help people who lack tone and body mass.
An appetite opener, fenugreek allows better absorption of nutrients and facilitates the digestion of food.

It protects the intestinal mucosa from irritation and inflammation, thus relieving gastritis, diarrhea, dysentery, indigestion, peptic ulcers, etc.

Fenugreek Leaves slows down and optimizes the absorption of carbohydrates, and inhibits the transport of glucose, to help control diabetes.
Thanks to its composition, Ramdev kasuri methi stimulates the immune system, it also has expectorant, antifungal and antiphrastic properties.

It allows the body to protect itself against infections and bacterial, microbial and viral ailments such as winter ailments, flu, colds, sinusitis, asthma.

Regular consumption of Kasuri Methi has the ability to regulate the cholesterol level in the blood, lowering the bad LDL cholesterol and increasing the HDL.
Recipes : 
A commonly used condiments in many households, Ramdev kasuri methi can be used across a wide range of recipes. You can experiment with this herb in Indian as well as International recipes.
Buy Ramdev Kasuri Methi online
to make:
Methi paranthas

Theplas

Aloo Methi

Masala Chawal

Paneer Kadhai

Paneer Tikka Masala

Kasuri Methi Kulcha

Flatbreads

French loafs

Savoury muffins and more
Soak Ramdev Kasuri Methi in hot water with a little salt for 15 minutes and rinse thoroughly. Ramdev Kasuri Methi will enhance the taste and add wonderful flavour to curries, dals and vegetarian dishes. It can be added to dough to make delicious paratha and nans.

Dried Fenugreek leaves or Kasuri methi is used for seasoning or flavouring various dishes in the Indian cuisine. In some parts of the country, it is also used for herbal teas or kadhas (concoction).

Elevate the taste of everyday vegetables, daal or paranthas by adding just a tablespoon of Ramdev Kasuri Methi. The package helps retain the texture of the dried leaves making it easy to just crush them between your palms and add it to the recipe of your choice. Shop the

best Ramdev kasuri methi online

today.