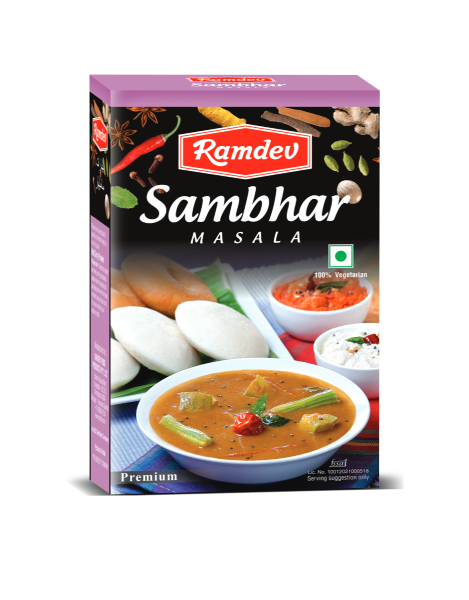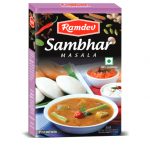 Sambhar Masala
₹ 26.40 – ₹ 45.60
Ingredients
Recipe
Nutritional Information
Ingredients: (In powder form) - Coriander, Chillies, Cumin, Turmeric, Fenugreek, Dry Mango, Iodised Salt, Black Pepper, Black Gram, Bengal Gram, Cassia, Cloves, Compounded Asafoetida, Mace.
Allergen: The product made in a facility that processes Peanuts, Tree nuts, Soya, Milk, Mustard, Sesame, Celery and Cereals.
Add ¼ teaspoon Ramdev Turmeric powder to ½ cup Tuver dal and required water and boil. 1 cup vegetables (brinjal, potato and bottle gourd), 4-5 pieces of boiled drumsticks, coriander leaves and add required quantity of water and salt and allow it to boil Take 3 tablespoon oil in a deep pan, add 1 tablespoon Udad dal, 1 teaspoon mustard seeds, ½ teaspoon fenugreek seeds, ½ teaspoon cumin seeds, pinch of Ramdev Hing, 5-7 curry leaves, 2 whole red chillies, 1 chopped onion and allow it to crackle. Add ½ cup tamarind pulp, 2 tablespoon Ramdev Sambhar Masala, 1 tablespoon Ramdev Chilli Powder, 2 tablespoon Ramdev Coriander Powder, 1 chopped tomato. Mix with sambhar and let it boil. Garnish with coriander leaves and shredded coconut and serve hot with Idli/Dhosa/Uttappam.
Nutritional Information (Approx.) Per 100g
Calories
384.60
Kcal
Total Fat
12.16
g
Saturated Fat
2.06
g
Polyunsaturated Fat
2.43
g
Monounsaturated Fat
5.88
g
Trans Fat
0
g
Cholesterol
0
mg
Sodium
3178
mg
Total Carbohydrate
51.28
g
Dietary Fibre
8.12
g
Sugars
0
g
Protein
17.51
g
Vitamin A
36
µg
Vitamin C
7.48
mg
Calcium
105.61
mg
Iron
18.89
mg