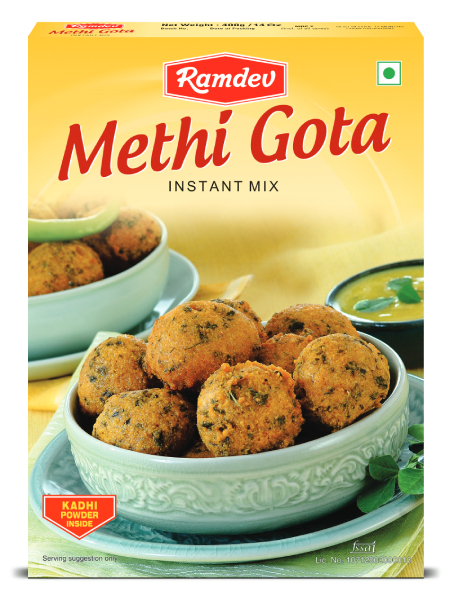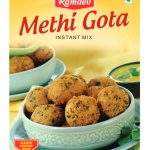 Ingredients
Recipe
Nutritional Information
Ingredients: (In powder form) - Bengal Gram Dal, Semolina, Sugar, Iodised Salt, Coriander, Black Pepper, Dry Fenugreek Leaves, Chillies, Turmeric, Compounded Asafoetida, Spices, Raising Agent (INS 500(ii)), Acidity Regulator (INS 330).
Add 360ml. water into the mix . Keep it aside for 15 minutes. Whip the batter before frying. Fry Methi Gota in hot oil at a consistent degree of temperature.
Kadhi: Add Kadhi Powder to 40ml. water and boil it for 5-6 minutes. Hot Methi Gota tastes delicious when served with this hot Kadhi.
Makes 30 Bhajiyas (approx. 20g each)
Nutritional Information (Approx.) Per 100g
Calories
349.18
Kcal
Total Fat
4.86
g
Saturated Fat
2.51
g
Polyunsaturated Fat
0.18
g
Monounsaturated Fat
0.67
g
Trans Fat
0
g
Cholesterol
0
mg
Sodium
750
mg
Total Carbohydrate
59.73
g
Dietary Fibre
6.37
g
Sugars
13.85
g
Protein
16.63
g
Vitamin A
31.64
µg
Vitamin C
1.38
mg
Calcium
44.73
mg
Iron
5.40
mg